Here Francis talks about his work:-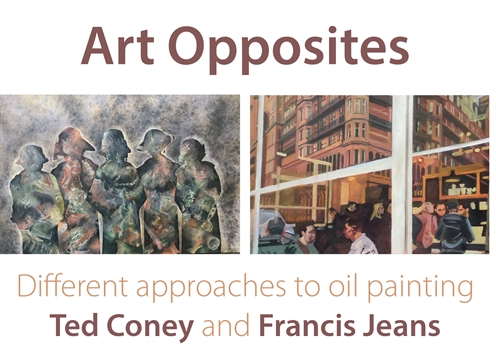 Different approaches to oil painting
Babylon Gallery, Waterside, Ely CB7 4AU
Open Tuesday – Sunday 12 noon – 4 pm
FREE entry.
Friday 16 March – Sunday 8 April 2018
See Ted working in his pop up studio in the gallery this Sunday, with an informal talk from 2.30pm – 3 pm. 
Two Cambridgeshire artists have joined together to exhibit their work at the Babylon Gallery. Although friends for many years and both work in oils, their practice is very different. Francis Jeans always works directly in front of his subject matter. Often physically difficult; busy London streets or railway stations do not daunt him and he rather relishes the challenge. On the other hand, Ted Coney always works on the final painting in his studio, although some of the research will be on location. The final picture will come from a range of objects, sometimes specially commissioned or from his findings on a planned journey or event.
TED CONEY
Artspace film: first broadcast on Cambridge TV I have been making paintings about family life and relationships for nearly fifty years. I seem to work on a three-year cycle with one painting on the easel for about a year, while the other two are at various stages of preparation, with sketchbook work and collecting material an ongoing process.
Working from preliminary sketches and making extensive use of props, the final composition is worked out before I start. However, each new piece of work brings its own technical challenges which have to be resolved as I go along, often on small canvases.
Although the starting point usually comes from my family history, I like to think the paintings are universal, because everyone has a family with all their foibles, joys and sorrows.
FRANCIS  JEANS
Watch Francis Jeans street art
Figurative painting and drawing from life has always been my passion:portraits, people at work, landscapes, still life, architecture and street life.
In my recent paintings of the urban scene,usually in London,I have painted outdoors looking into cafes,bars and in underground stations with changing scenes of people in different groupings and relationships, creating complex patterns of shape and colour.
Reflections of many kinds and the double image fascinate me, as do lighting, mirrors, windows, and combining inside and outside views of people and objects
I use these aspects to form a strong composition, using paint, brushwork and texture to explore contrasts of colour and shape
I always work directly in oil onto canvas without any preliminary drawing,
The Contemporary Gallery on the Waterfront of Ipswich Suffolk
18th February-16th March 2013
It has been three years since Francis' first solo exhibition having painted the buzz of the emerging café culture, capturing the distorted
reflections in the marina in and around the Ipswich Waterfront, within sight of the gallery.
But this new work has been mainly painted in city centres depicting people in their daily pursuits. He has a particular fascination with
the double images formed by reflections of busy streets on shop windows and buildings, sees the fleeting movement of people, traffic
and trains cemented in time against a strong structural, architectural composition. There is always an honesty about Francis' work that
is extremely comforting-and is somewhat unusual these days. He always produces his work directly from life, sitting in and amongst his
subjects and often out in all weathers, painting in pure oils straight onto good quality, self-stretched canvas. Many artists shy away
from painting in oil, possibly because it is arguably the most difficult of all media to master, preferring the ease, cleanliness,
immediacy (and economy!) of acrylic, along with the comfort of painting in the controlled environment of the studio.
Having trained in the mid-60's to early 70's at Bournemouth, Wimbledon and Hornsey Colleges of Art, Francis has exhibited work
across London in solo and group shows, as well as more locally within East Anglia. This artist can remind you of a contemporary
Sickert, Gilman, Gore or Ginner, The Camden Group of painters from 1905-1914.
Come to view the immediacy of this very talented Cambridge based artist.
Monday – Saturday 9.30 am – 5.00 pm